jedigirl posting in

twilight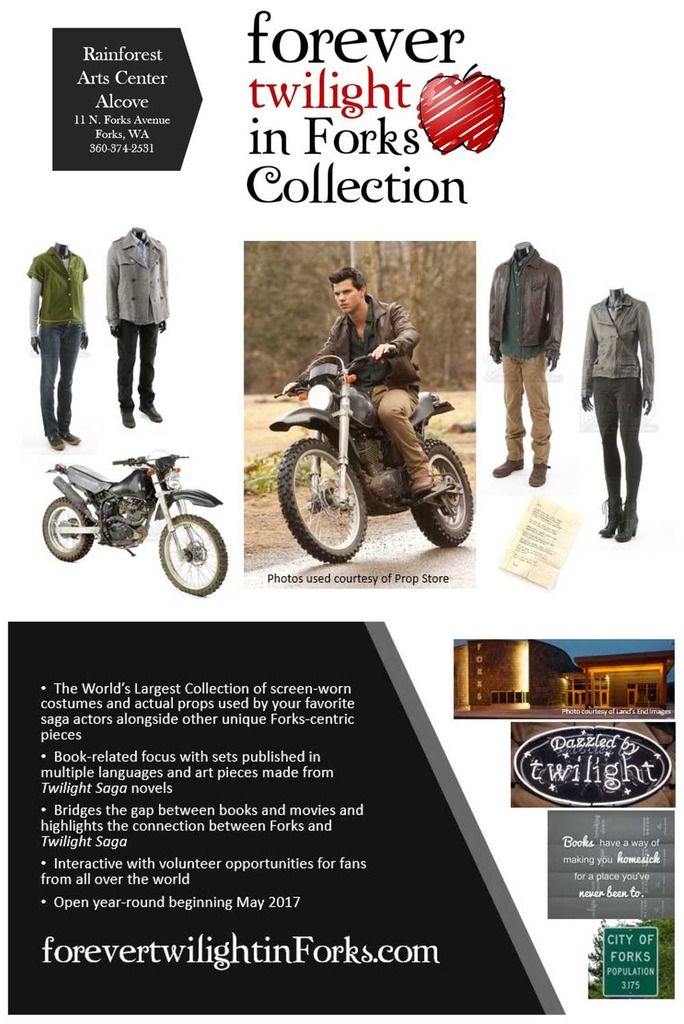 FORKS — The Forks Chamber of Commerce will unveil the Forever Twilight in Forks collection of movie memorabilia Saturday at the Rainforest Arts Center.
The new collection will open at noon at the center, 35 N. Forks Ave., for members of the press and fans of the "Twilight" books and movies.
"As 'Twilight' fans ourselves, we are so happy to have these amazing pieces to share with the public and our fandom family," said Lissy Andros, Forks Chamber of Commerce executive director.
"This phenomenon has been the most interesting, fun experience, and we look forward to what the future holds."
Free gallery
Throughout the year, the gallery will be open to visitors and will feature a volunteer docent program for fans. Entry to the gallery is free, though donations will be accepted.
Forks is the location that author Stephenie Meyer chose as the primary setting of her "Twilight" book and movie series.
The city gained much popularity as the key setting for the popular books and movies between 2005 and 2008, although no scenes in the movies were filmed in Forks.
The gallery will feature screen-worn costumes and actual props used by "Twilight" saga actors.
Books, movies, Forks pieces
According to chamber officials, it will be a blend of book, movie and unique Forks-centric pieces, including authentic movie props and costumes, an art piece made of the "Twilight" series books, a backdrop for photo-ops and other interesting memorabilia.
Highlights from the collection include Jacob Black's motorcycle; costumes worn by actors Kristen Stewart, Robert Pattinson and Taylor Lautner; Jacob's letter to Bella; Sam Uley's Jorts; props from Bella and Edward's wedding; and other items from the movie series.
For information, call 360-374- 5412 or email info@forkswashington.org.
Source
www.peninsuladailynews.com/entertainment/fangs-for-the-memories-forks-exhibit-to-feature-twilight-book-movie-memorabilia/